Gynecologist located in Upper East Side, New York City, NY
Joan Berman, MD, has been providing personalized, compassionate gynecological care to patients in New York City for over 25 years. At her practice in the Upper East Side of Manhattan, Dr. Berman and her knowledgeable staff take pride in cultivating long-standing relationships with many patients while welcoming new ones.
Dr. Berman's diverse medical experience includes a two-year training program in sex therapy and over 20 years consulting for Columbia University's Student Health Center. She believes these experiences give her a unique insight into treating and addressing complex issues many women find difficult to discuss. Dr. Berman treats patients at every stage of life from adolescence to adulthood, menopause and beyond.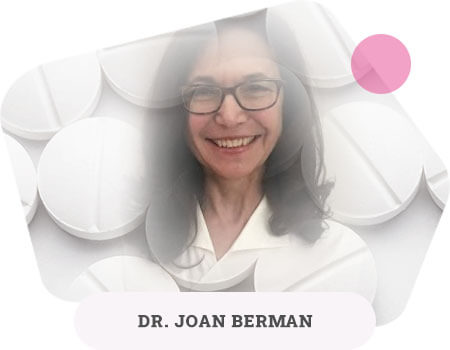 Born and raised in Tucson, Arizona, Dr. Berman's medical career began with academic excellence in her hometown. She graduated summa cum laude from the University of Arizona, where she was a Baird Scholar and inducted into Phi Beta Kappa and Phi Kappa Phi honor societies.
After earning her medical degree from the University of Arizona, Dr. Berman worked in a research laboratory, volunteered at a diabetes clinic on the Papago Reservation, and served with a surgical team in Papua New Guinea. She then chose to do her residency in obstetrics and gynecology at Mount Sinai Hospital in New York City where she maintains privileges and is an Assistant Clinical Professor.
Dr. Berman is committed to keeping up with modern advances in medicine and regularly attends conferences for continuing education. She is a member of the American College of Obstetrics and Gynecology, and is Board Certified by the American Board of Obstetrics and gynecology. Every year she takes an exam to maintain her Board certification. She is also a member of the North American Menopause Society and will be a certified Menopause practitioner.
Testimonials
"I've been a patient of Dr. Joan Berman for over 15 years! There is no one else I would even consider going to. She is kind, smart, thoughtful and pro-active." - Karyn
"I have been a patient of Dr. Joan Berman for over 10 years. She is a first-rate gynecologist: knowledgeable, confident, caring, and empathetic." - Patient
"Dr. Joan Berman has been my gynecologist since 1999. She is extremely caring and truly treats the whole patient. I can't recommend Dr. Berman more highly!" - Lisa
"Dr. Berman has been my gynecologist for over 15 years. I'll never go anywhere else. She is thoughtful, kind, smart, and very proactive!" - Karyn
"Dr. Berman introduced me to the Mona Lisa Touch laser which on average takes three sessions to see results. I highly recommend the procedure." - Verified Patient
"As a new patient of Dr. Berman I felt very comfortable with her. She helped me with my painful periods and also helped me manage them." - Verified Patient
"I have been Dr. Joan Berman's patient for many years. I find her to be warm, professional, and attentive at all times. I trust Dr. Berman totally." - Verified Patient
"I feel so fortunate and blessed to be in the care of such a caring, conscientious, superb diagnostician, and remarkably skilled gynecologist." - Verified Patient
"Dr. Berman is a rare and wonderful doctor. Smart, caring, great touch, and a good listener. I highly recommended Dr. Berman with no reservations." - Verified Patient
Articles